A few random bits of news about new-ish songs: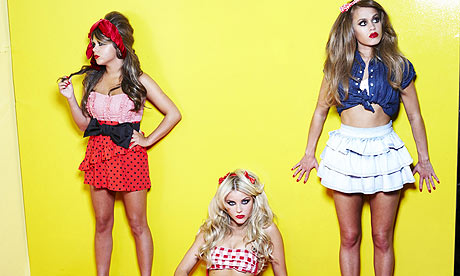 I just noticed that you can stream many of the
Dolly Rockers
' songs on Last.fm, including, most importantly, the studio version of
"How Did I End Up With You"
(or "How Did I End Up With U?" or "How Did I End Up With You?" or "How Did I End Up With U"--Last.fm-concerned me is suffering). While you're there, if you've not listened to them before, give "Gold Digger" a try, too; their debut single, "Je Suis Une Dolly," is good, too, but it has a much more "novelty single" sound. In other news about the British girl group, the picture on
Popjustice
from a photoshoot with them looks great.
It looks like
Måns Zelmerlöw
's new single is "Hold On." Good song, although not one of my ultimate favorites on the album. "Forever" is crying out to be a summer single, although maybe that's more in my head than in terms of what Swedish radio would actually play.
This Must Be Pop
's discovery
Jonas Oakland
has a new single out (it should be on international iTunes stores shortly). It's called "Stay," is Swedish disco-dance-pop in the vein of his first single "Beat Of My Heart," and is for sale now. Definitely one that's just for the hardcore Swedish pop addicts, but I thought some people besides me might like to know. Stream it on his
website
.
Speaking of things you lovers of poppy dance music from Scandinavia are likely to enjoy, I'm so grateful to Scandipop for pointing us all in the direction of
Friðrik Ómar
's (a.k.a. the male half of Eurobandið and the singer of "Eldur," the second best song in Iceland's 2007 national final) "I Wanna Know." It's another Örlygur "Öggi" Smári (the man behind Páll Óskar's comeback and Eurobandið's "This Is My Life") creation and, though not quite as great as "This Is My Life," it is definitely enjoyable; it also seeks a different vibe, less celebratory and more pensive, saddened but hopeful dance. Listen to it on his
MySpace
.
I've been playing
Cobra Starship
's "Good Girls Go Bad," featuring
Leighton Meester
, a decent bit these past few days.
Melismatic's description of the song
, "cookie-cutter power-pop emo glitter," is unbeaten.