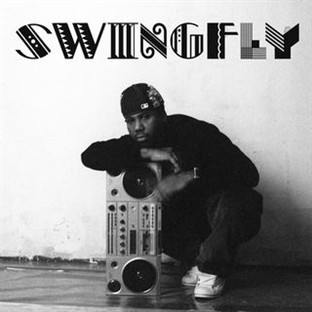 I know I'll be overlapping with
Nick #1 Hits
by posting this song, but today's song is one I've been dying to praise for months now and I really can't pass up the opportunity.
One of the best rap songs of last year, Adam Tensta's "My Cool," came from Sweden, and from the looks of it, that's going to happen again this year as well. My guess would be that, if you're familiar with American-born but Swedish-based Swingfly, it's from Teddybears' "Hey Boy" (he's the vocalist) or from his brief appearance on Robyn's
Robyn
album (he's in "Curriculum Vitae," the introductory track). If his latest single is anything to go by, though, he deserves far more attention in his own right; I'm very excited to hear what his upcoming album sounds like.
Singing That Melody
--I know I just referred to Swingfly as a rapper--and that's how he refers to himself, and what he is--but this isn't really rap as we know it; even setting aside the chorus for a moment, the rapping in the verses is still both more melodic and more like regular talking than in most rap songs we get in the U.S. Or maybe it's just that the musical backing he and co-writer RamPac have created for the song is made of such different sounds than are usually used in rap songs, with a backbeat that mixes electronic noises and those you might expect to come from a great (pop-) rock band just having fun and playing a fairly light-on-its-feet (if not fully light in soul) mid-tempo piece. And getting back to that chorus: it's fantastic radio-friendly stuff, with the "gimmick"--the song takes its title from the melody a phone number makes when dialed--actually being not gimmicky at all, instead just being a great complement to a chorus of the sort that you could walk around singing all day. Swingfly gives off this cool vibe, but the lyrics even get pretty cute at points: "my heart will never pause/I'm using metaphors" may come after a line about trying to make the relationship last for at "least a few years" (as opposed to the "forever" he later cops to) but still comes off as sincerely sweet. Completely deservingly, the song recently began to take off in Sweden, and I can only hope that it continues to do better and better since it couldn't be more apt that "melody" is in the title: the awareness of how important a great pop melody is is what makes this song so great.
To buy Swingfly's latest single, "Singing That Melody," go
here
(physical; preorder) or
here
(digital).
Next up: maybe one of several American singers I want to write about eventually.