Another week, and another semifinal to look forward to, this time in Västerås. Once again, I'm no expert, so feel free to correct me or add things!
Sources:
Schlagerprofilerna
(again, the must-read),
SVT's official Melodifestivalen site
,
Wikipedia
,
ESC National Finals
,
Aftonbladet's rundown
,
QX's rundown
(same author--one of them--as Schlagerprofilerna),
ESC Today
,
Västerås Mälarstaden's Melodifestivalen site
,
Gylleneskor
,
TV Planeten
,
Lionheart
, and VLT.se (
1
,
2
).
1.) Ola, "Love In Stereo"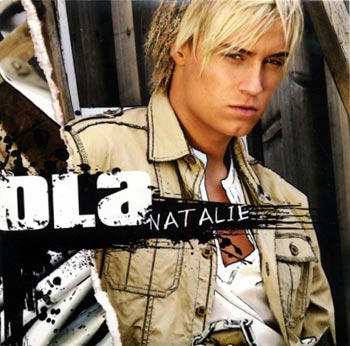 Ola Svensson competed in the second season of Idol in Sweden, the season that also gave us Agnes Carlsson, Sebastian Karlsson, Måns Zelmerlöw, and someone else competing in Melodifestivalen this year, Sibel Redzep. Ola only took eighth in that season, but he's since managed to consolidate himself as a pretty successful popstar in Sweden. His first album, riding on a cover of Anthony Callea's song "Rain" and a song he co-wrote to his adopted brother (s? I can't remember), "Brothers," could have just been a case of immediate post-Idol success that soon fades away, but--once again releasing a cover (though once again one few people in Sweden knew) as a lead single--Ola took the uber-poppy "Natalie" to the top of the summer charts in 2007, and then followed that up with the fantastic "S.O.S.," which was also successful, if not quite as much. His entry in this year's Melodifestivalen, "Love In Stereo," is co-written by Tony Nilsson, who wrote or co-wrote both "Natalie" and "S.O.S.," which made me pretty excited to see this song in the contest. The early description of it--an uptempo '80's-influenced pop track--made me even more excited, though I took that '80's part with a grain of salt, since that's what Ola said his second album
Good Enough
was going to sound like, and I wouldn't say that's too evident at all. Still, if that's interpreted to mean something in the vein as and at the same level of quality as "S.O.S." and "Natalie," that would be very welcome--they're both great pure catchy uptempo pop. On the other hand, Ola's album definitely has its low points, and
it has been said that
"Love In Stereo" isn't as good as "S.O.S." and "Natalie." I'm now trying to steel myself for disappointment. Still, I'd be lying if I didn't say that "Love In Stereo" is one of my most anticipated tracks (as you can probably tell based on how much I've written), and especially out of this semifinal. He's seen as having a very good chance to qualify to the final. (By the way, his second album,
Good Enough
, is going to be reissued with "Love In Stereo" added on.)
To watch: the very cheap video for the fantastic "S.O.S."
Alternatively, here he is performing "Natalie" at Rockbjörnen, which I think is his most recent big live performance and so the best indication we've got of what to expect from him vocally
2.) Lasse Lindh, "Du behöver aldrig mer vara rädd"
(You Need Never More Be Afraid/You Need Never Be Afraid Again)
Not the sort of artist you think of when you think of Melodifestivalen. I guess Lasse Lindh has kind of an indie-pop or alt-pop sound, at least compared to someone like Ola. He started out releasing material in Swedish, then switched to English for a bit, but has returned to Swedish. "Du behöver aldrig mer vara rädd" is a love song that's a little reminiscent of Snow Patrol, is mid-tempo, written to his girlfriend, and very much in Lasse's usual style. He thinks the lyrics, which are basically of the "if you're with me I'll protect you" sentiment, are very important to it. I think he has an album due out March-ish and that the song uses strings, piano, guitar, bass, and drums (which I realize doesn't tell you anything at all), nothing electronically created.
To watch: the video for "Svenska hjärtan," released in 2005
3.) The Nicole, "Razborka"
Nicole Fuentes, or the Nicole, was born in Russia and grew up in Greece, the country where she also released a single called "Give Me Your Number." She's already got songs for an album and, if she does well in Melodifestivalen, we may "see more of her." The official description of "Razborka" says that it's commercial pop with ethnic influences about a guy who has to prove himself to Nicole by dancing "the razborka."
Schlagerprofilerna says
they've heard it could be a small hit in gay discos. It has some Russian influence and is uptempo.
To watch: the video for her very recently released single, the cabaret-pop "Shut Up"
4.) Alexander Schöld, "Den första svalan"
(The First Swallow)
When the list of songs and writers was released, I was kind of excited, in a small way, about this song; the music for it was done by the guys at Epicentre, who've given us some truly great pop songs over the years; LMNT's ridiculous "Juliet" (one of the best teen-pop singles from that period's heyday); Agnes/Ricki-Lee/Jody Williams's "Love Is All Around;" Agnes's "Emotional;" my favorite song from Nanne's last album, "Kom hit;" A*Teens' "Firefly," "Sugar Rush," "Back For More," and more; Jessica Folcker's "Crash Like A Wrecking Ball" and "Punk;" and more. Basically, I was hoping for just a great pop song. However, after hearing Alexander's voice...well, let's just say that, based on the little singing I've heard from this former Fame Factory contestant, I'm worried that his voice may not be a positive for me. Maybe I'm wrong and it'll fit really well with the song, but as it stands, I'm worried the...nasal sound of it won't be too appealing, so my expectations have drastically fallen. Anyway, Alexander has released commercial material before, but I'd never listened to it (well, I think I've got a few songs from him sitting around from Fame Factory discs) until his latest single, the (Tony Nilsson-written, I think--eep! Though the version playing on his
MySpace
is considerably different, since it's not acoustic and it's less ballady, and consequently it's a lot better) "Jag hatar dig." "Den första svalan" is apparently an uptempo guitar-driven pop-rock song that Schlagerprofilerna
said
might be compared to Per Gessle or a more mature Jimmy Janson but that isn't memorable.
To watch: the bizarre video for "Jag hatar dig"--but the
non-acoustic version
, as I said, makes much more sense than this (not that that many Melodifestivalen fans will like either). Actually, listening to that version, his voice works (or at least works better)--very odd choice to use the acoustic version for the video, then
5.) Rongedal, "Just A Minute"
The two Rongedal brothers (presumably performing with a band, based on their promo pictures), active in the '90's, helped right 2006's "Mi amor" (that's the one by Gregor, not Velvet) and performed as backing singers for the Electric Banana Band that same year, as well as appeared on the game show Så ska det låta in 2007 (which I think brought them back to whatever prominence they have now). "Just A Minute" is officially described as being a party song with falsetto, and it's said to have a bit of a retro feeling; Rongedal themselves use the term "energidisco" to describe it, which is different than I would have guessed, given the sound of their spring 2007-released single "Hey Won't You" (clip playing on their
MySpace
), which is what I guess is called radio-friendly guitar pop. "Just A Minute" is about seizing that opportunity that can change your life.
To watch: well, unless you want to look for them in the Electric Banana Band performance, here they are covering Earth Wind & Fire's "September" on said TV show
6.) Sanna Nielsen, "Empty Room"
Sanna ditches uptempo schlager for an Aleena Gibson-penned ballad--well, maybe no surprise, considering that, though she's always made it to the finals with each of her past four entries, she's never really come close to the top since 2001, when her ballad "Igår, Idag" took third, and, outside of Melodifestivalen, she's done a lot of ballads. Still kind of sad, though, even if Aleena, who performed and helped write 2007's "Anything But You" and 2003's "Better Believe It" and co-wrote Anna Sahlene's 2003 entry "We're Unbreakable," is involved in the creation of the song. Sanna's a consummate professional, releasing music since before she was even in her teens, so whether or not she can sing won't be an issue (though whether or not her voice or vibrato is to your taste is another matter--though apparently she doesn't use her vibrato on this song). "Empty Room" is apparently a powerful--and good--schlager ballad, though, and she's one of the more famous contenders out of this group. She'll be releasing an album in English this spring (which I'm very excited about).
To watch: her performance of the schlager stomper "Våger du, våger jag" in 2007
7.) Andra generationen, "Kebabpizza Slivovitza"
A song rejected in the past this year makes it into Melodifestivalen. Andra generationen, a group with its roots in the Balkans, isn't particularly famous in Sweden, though apparently they did a soccer/football song in 2006. The official description of "Kebabpizza Slivovitza" says that it's a Balkan brass song as played at various life events (weddings, baptisms, etc.). Apparently there's a little bit of rapping in it and the lyrics are "kul."
To watch: their performance of "Spela för mig" on a TV show
8.) (Andreas) Johnson & (Carola) Häggkvist, "One Love"
Oh boy. The three time Melodifestivalen winner and one time Eurovision winner Carola, a schlager singer who shot to fame with the song "Främling" when she was sixteen years old and whose religiously-guided beliefs have led to controversy in recent years, and Andreas Johnson, the progressively improving (Melodifestivalen rankings-wise; he was third in 2006, launching a commercial comeback, and second in 2007) singer best known internationally for his single "Glorious," team up for a song co-written by Peter Kvint, the man behind Andreas's 2006 and 2007 entries and Sebastian's 2007 entry. On the one hand, the duo is seen as an unstoppable force, at least in the sense of easily making it to the final and quite possibly winning the whole thing; on the other hand, there's some real frustration with them, especially with Carola for returning to the contest. Carola describes the song as "a powerful explosion of love and music," but that doesn't really tell us anything; she does also say it's uptempo (I'll believe it when I see it) and upbeat. By the way, Andreas has a new album coming out in September.
To watch: a performance of Carola and Andreas's recent single "Lucky Star"