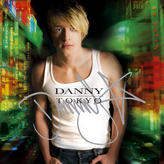 The jury's still out on if the following song will be anything more than a passing fancy, but for the moment, it's just nice to see someone out of an Idol show doing something different (or relatively so). Danny Saucedo, who is continuing in the great tradition of most of Sweden's male Idol contestants and just going by his first name, took sixth this past season, which Markus Fagervall won and Erik Segerstedt took second in. While most Idol grads nowadays seem intent on using guitars, Danny, if his first single is anything to judge by, is keeping far away from them.
(I don't actually have anything against guitars, but so many people coming off reality TV shows now seem to think they're the magic ingredient to improve their fortunes--"well, I want my xth album to sell...bring on the guitars!" I wouldn't even have a problem with that if people did it well, and some do, but so many do not, just tossing them in without any regard to how to make them work, to how powerful they can be if used well, to how important melody is. Guitars are not a panacea.)
Tokyo
--dance-pop. And yes, I know we just did dance-pop from Sweden yesterday, but I'm still pleased enough to see someone off of Idol pursuing this direction (and pursuing it fairly well, even if there's a lot to work on still) that I thought it was worth posting. Maybe it's processing, but Danny's voice isn't particularly smooth, and one could raise the question of whether he's the best person to be doing this song--whether there might be some singers out there who would take the song's quality to another level. Still, it's catchy and fun and not "faceless," all of which means I'm inclined to enjoy it. It's not the sort of song that pushes boundaries or stops you in your tracks, but if he can come up with an entire album around this quality, it'll be worth buying...and hopefully, it would have some songs on it that were even better.
If you live in Sweden, you can buy Danny's single "Tokyo" from iTunes
here
. Wherever you live, you can buy the single
here
(physical).
Happy first birthday to the amazing blog
#1 Hits From Another Planet
! It's a must-visit, guaranteed to introduce you to artists you've never heard of before but love (the first blog to discover Alphabeat, for example).
If you loved Adem's story about him and Take That (and how could you not?), you're sure to love his description of growing up with Madonna--visit
I'm Always Right
to read it.
Andreas Lundstedt's unjustly cut from Melodifestivalen single "Move" is pretty high on Sweden's iTunes charts--I just hope it does well on the real charts (it isn't yet)... Hopefully Regina's song rises, too--it's around #80 on iTunes right now, but it may be too early to judge.
Edit: ohhh...go read
this
. Now.
Now
.
Next up: Friday! I can't wait! The debut of the next round of Melodifestivalen songs.