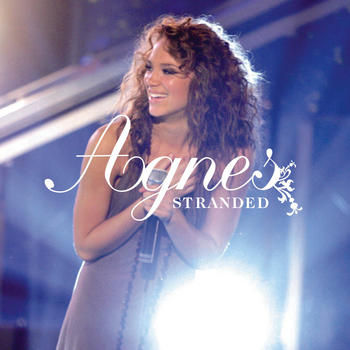 Though the predominant opinion about this past year's American Idol seems to be that it was one of the worst years so far, I really disagree; I can't remember a time the last time I was so content with the top few contestants and I'll be very interested to hear what Blake Lewis comes up with for his debut album
A.D.D.
(which apparently stands for Audio Day Dream and
is listed
as coming out November 27). That said, I'm not sure whether it's because Sweden has better singers or better songwriters--both, probably--but Idol contestants from Sweden have much higher odds of releasing a good album or at least an album with some good songs on it. Agnes Carlsson, only nineteen years old, is one of them; in 2005, she won the second season of Idol in Sweden, a season which also included Sebastian Karlsson (the runner-up), Måns Zelmerlöw (fifth place), and Ola Svensson (eighth place), all of whom have released songs I like. Speaking of Måns, he and "Cara Mia" only got to compete in this year's Melodifestivalen because two songs were disqualified; Agnes's "More Than A Girl" was one of them, disqualified when Agnes talked about it to the press, and we still haven't heard it--I hope we get to at some point! I think my two favorite songs by her are "Emotional" from her first album and "Love Is All Around" from her second, but since I was introduced to those songs by
Catchy Tunes of Sweden
, it wouldn't be right to post them; instead, here's her second single, the first one released after her winner's single "Right Here, Right Now" and which is almost as good as the two songs I just mentioned.
Stranded
--for some reason, this song reminds me a little of Whitney Houston, though I've really not listened to that much of her work and don't have much basis for saying that. It's upbeat, catchy, and super-poppy, a song that feels refreshing and is sure to bring a smile to your face.
To buy Agnes's debut album
Agnes
, go
here
(physical) or
here
(digital).
By the way, I mentioned Ola up there briefly--I think I may be slightly obsessed with his new single "S.O.S."--it's great! And I actually get what he was talking about with the '80's comparisons now.
Next up: maybe Belanova. I'll get back to them eventually, really.